Meteorite Star Earrings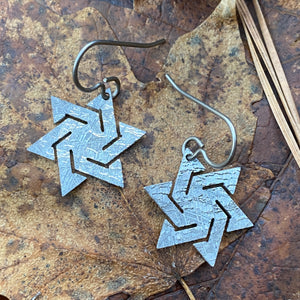 The six pointed star, made up of equilateral triangles, was used throughout history and is also called the Star of David or Shield of David.  The surface is craggy and ancient, literally older than Earth.  They are finely crafted from genuine 4 billion year old Gibeon Meteorite that fell from space.  They are made thin to be lightweight and are cut to highlight the crossing lines and is about 24mm diameter.  The loops are hypoallergenic titanium.  The beautiful crystalline Widmanstatten lines accent the surface. They were caused by the metal cooling extremely slowly while in space.
Please note: Due to the increased area of earrings, it may be possible to have one or two small dark spots in the meteorite.  These are known as regmaglypts and are usually around 1 to 2mm in diameter.  This is simply rocky bits from the outer mantle of the meteor that get mixed with the iron core.  Just like the Earth has a rocky mantle and an iron core and was formed from meteorites, it's all perfectly natural.
---
Share this Product
Regular price
$95.00
$0.00
Boone Rings Etsy Store Review
I ordered a custom pendant. I won't tell you what it looks like because I want it to stay 1 of a kind 😉 The communication was GREAT! It was wonderful working with this seller! I LOVE my pendant and the price was below what I was willing to pay! I'm deciding what we will get next! When my husband retires and can wear a wedding ring I'm getting it here because, yes he's that wonderful!😊☺😉😁😍😚🤗
---
More from this collection