Meteorite with Twin Color Stripes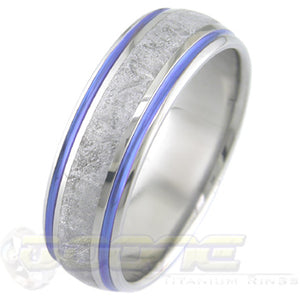 This ring has a centered wide inlay of meteorite centered between two U shaped grooves with anodized colors in them. Anodizing is a process where a clear oxide is grown to a specific thickness, and it gets color by interference of lightwaves like a soap bubble does.  The meteorite used is the Gibeon Meteorite, and is estimated to be over 4 billion years old!  The meteorite traveled millions of miles through space before landing in South Africa sometime in prehistory.  It has a unique crystalline grain structure called Widmanstatten lines that were caused by the meteorite slowly cooling over millions of years.  The ring shown is 7mm wide and the titanium is the polished finish.
---
Share this Product
Regular price
$495.00
$0.00
Boone Rings Etsy Store Review
My fiance and I love it! It's exactly what we wanted and hoped for. Another success.
Boone Rings Etsy Store Review
It was everything we wanted!!!! Thank you for letting me customize it . my soon to be husband loves it.
Boone Rings Etsy Store Review
I purchased this as my fiance's wedding ring, and it is absolutely beautiful! A picture cannot do the finished product justice. The design is well thought out, and the craftmanship is impressive. This is definitely a sturdy and stylish ring that is going to hold up well for many years to come. I would definitely purchase from Boone Rings again in the future!
Boone Rings Etsy Store Review
I gave this ring to my husband for our wedding. We LOVE IT!
It is quite the conversation piece.
The size and the engraving are perfect!
Bruce and Trish do a stellar job of customizing rings and delivering them incredibly quickly! Thank you so much! .: * . :. ( : .* .
Boone Rings Etsy Store Review
Beautiful and indestructible. My partner is very happy with the design and elegance of this ring.
---
More from this collection