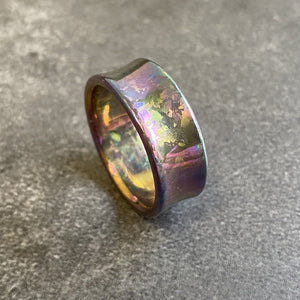 Crystal Ti is a very special type of titanium where crystals are made to grow to a very large size.  The ring gets anodized, and the orientation of the various crystals play the light in a manner similar to a hologram or dichroic glass.  The crystals look 3 dimensional with a very unique look.  The color will change as the angle of view is changed.  These are rings that have to be seen in person to get the full effect.  Being titanium, it is both hypoallergenic and nonmagnetic.
---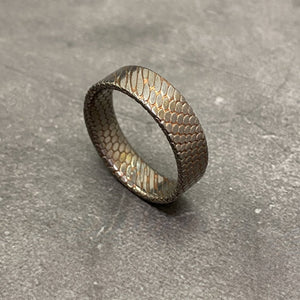 A superconductor is a material that can conduct electricity with no resistance. So, no energy of any form (heat, sound, kinetic, etc.) would be released from the material once it reaches its critical temperature (Tc). This particular superconductor we use in our rings is comprised of a matrix of titanium-niobium wire embedded in copper.  When we cut the stock at a 40 degree angle, we get this unique effect with the wire appearing to stretch in some areas of the ring.  Explore our collection to see what all we can do with superconductor!
---
We have a family of rings called our Laser Engraved Series, which allows for a virtually unlimited amount of customization. From custom fingerprint engravings to your wedding date engraved in Roman numerals to sound wave forms of you saying something meaningful to your spouse, the sky's the limit. We are able to do this with our engraving laser systems that we have at our facility.  Virtually any scene, pattern, text, or concept can be engraved onto both the inner and outer surfaces of the ring.  The Laser Engraved Series has a wide selection of the designs and concepts that we already make,...
---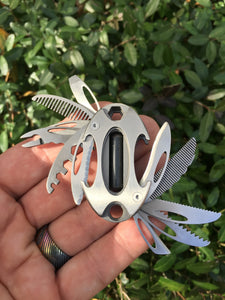 Inspired by our Man Ring, the ToolFob is our next shot at a compact, yet useful tool that you can take with you anywhere.  Since this multitool does not need to be manufactured in over a dozen sizes like the Man Ring, we are able to produce it in bulk and therefore drive the cost down, which is a win-win! The ToolFob boasts 21 functions, yet is the size of a traditional key fob and weighs just 1.4 ounces!  You won't even notice it in your pocket.  These make the perfect gift for birthdays, holidays, weddings, you name it! We...