2mm Meteorite Offset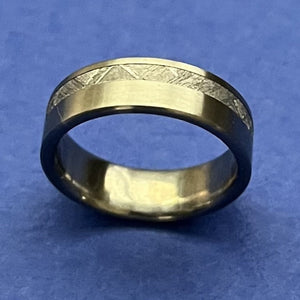 This is a titanium ring with a 2mm inlay of meteorite that fell to Earth in before recorded.  The Gibeon meteorite was discovered near the city of Gibeon in Namibia, South Africa in 1838.  It has a unique crystalline grain structure called Widmanstatten lines that were caused by the meteorite slowly cooling over millions of years as it hurtled through space.  It is literally older than dirt; over 4 billion years old!  The government of Namibia has stopped export of the meteorite, so it will become more rare as the years go by.  The contrast of the ancient meteorite and space age titanium is stunning.  Can be done in Regular domed Profile or Flat.
---
Share this Product
Regular price
$415.00
$0.00
Boone Rings Etsy Store Review
Customized it for free and resized it at no cost. Really appreciated the good communication too.
Boone Rings Etsy Store Review
Absolutley thrilled. Looks better than expected and delivery from USA to UK was quick.
Very happy customer!
Boone Rings Etsy Store Review
My Fiance loved his ring. It was beautiful. Customizing and having my questions answered by Boonerings was very easy. The seller would get back to me always within a day of my inquiry, sometimes within minutes. I would do business with them again.
Boone Rings Etsy Store Review
Top notch, professional work! Very quick turn around, top-quality product. Item was exactly as described, and gorgeous. Fiance loves the weight and feel of the ring, and fits perfectly. Can't wait to put this on his hand at the wedding. Perfect, and absolutely recommended - thank you Boone Rings!
Boone Rings Etsy Store Review
The ring is absolutely perfect. I was able to get it resized as well, which took next to nothing time wise (almost didn't even notice the ring wasnt on my finger it was such a fast process), and now it fits like a glove. Bruce is a fantastic artist, and i would purchase from again. More than pleased with my purchase.
---
More from this collection