Triple Interlock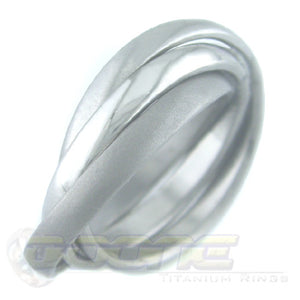 Interlock is not a single ring, but three rings that are bound together like a chain.  They are worn as one ring with each passing over the top of the other two. The rings can have contrasting finishes like the polished, angled brush, and beadblast  ones shown. To wear it, you hold the two outside rings and twist one way or the other to arrange it like the secondary picture, where the middle ring is flat with the others, and when you slip your finger in the center, it rolls right onto your finger with a unique braidlike motion.  This prevents the rings from stacking wrong and feeling tight.  The ring shown has 3mm width links.
---
Share this Product
Regular price
$385.00
$0.00
She loves it!
Arrived fast, fit well and she loves the finishes. Our 3rd purchase from Boone and I'm sure we'll be back.
Boone Rings Etsy Store Review
My fiance and I cannot thank you enough! You have made PERFECTLY our dream wedding rings, including customisations and finicky requests. We are thrilled with the results and they rings look sesnational. The Alien skin finish on the black zirconimum is something special, and just perfect for my fiances chunkier 4mm rings. And I love how dainty my 2mm rings are, the differences in finish are subtle and beautiful just as I had hoped and the engraving on both rings was perfect. Thank you SO MUCH for creating rings that we are excited to wear for the rest of our lives. Also the delivery time was astonishing. fromplacing the order to recieving the rings internationally in 5 working days. Mindblowing service and I reccomend Boonerings to everyone who wants superb style and craftsmanship. We will be back for more!!
---
More from this collection