Set of 10 Hex Bits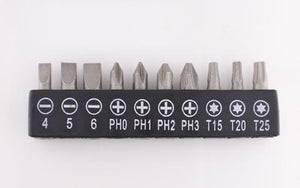 The utility of the ToolFob gets even more absurd when you add the set of 10 Hex Bits. The bits are held in the central slot by a live spring and can be plugged into the hex hole in order to be used. The bits are retained in the hex by another live spring. The bits are put back in the body by first aligning the flat walls at the bottom of the toolbit with the slot in the ToolFob and rotating it in place until it clicks. 
The set consists of Flat Screwdrivers in 4mm, 5mm, and 6mm, Phillips Drivers in size 0, 1, 2, and 3, and Torx Drivers in 15mm, 20mm, and 25mm. These are high torque REAL TOOLS for real applications.
The idea is to take along the tool you would need most stowed in the ToolFob and have the others in a backpack, car, toolbox, or some place handy. This keeps the overall weight of the ToolFob down yet allows you access to all 31 tools.
---
Share this Product
Regular price
$6.50
$0.00
---
More from this collection