Black Zirconium with Meteorite Inlay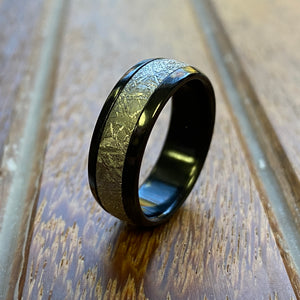 The ring shown is a black zirconium ring with an inlay of genuine Gibeon Meteorite that fell to Earth in prehistory.  The meteorite was discovered in Namibia in South Africa in 1838.  It has a unique crystalline grain structure called Widmanstatten lines that were caused by the meteorite slowly cooling over millions of years as it hurtled through space.  It is estimated to be about 4.6 billion years old, when the Earth had not yet fully formed!  The government of Namibia has stopped export of the meteorite, so it will become more rare as the years go by.  The ring shown is 7mm wide, and is available in 6,7, and 8mm widths.
---
Share this Product
Regular price
$725.00
$0.00
Boone Rings Etsy Store Review
WOW! This is the best purchase I've ever made! It was made in just a few days and shipped within a few as well. I'm honestly blown away by the ring! It was everything I could've asked for for my fiance's wedding band. HIGH QUALITY and honestly, not a bad price for quality, genuine meteorite.
Boone Rings Etsy Store Review
This review has no content.
Boone Rings Etsy Store Review
Perfect. A very beautiful ring, and so unique. My husband loves it.
Boone Rings Etsy Store Review
Our ring came so fast and looks great! It is exactly as we wanted it and the meteorite patterns are so pretty. It really is our precious...
Boone Rings Etsy Store Review
Absolutely amazing!!! Even more incredible than in the picture! The black zirconium surrounding the inlay is much darker than pictured (black, just as it says) and looks incredible. Arrived only a week after purchase all the way in Hawaii! Mahalo Bruce!!!
---
More from this collection