Gold Meteorite in a Black Zirconium Ring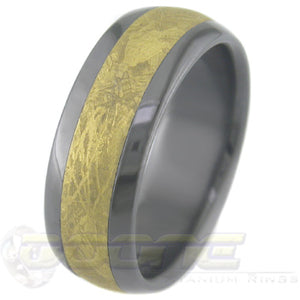 The meteorite ring shown is a Black Zirconium ring with an inlay of genuine Gibeon Meteorite that has been plated with titanium nitride to give its gold color.  Titanium Nitride is best known as the hard coating put on drill bits and saw blades to extend their life.  It is an inert coating, so works great on a ring.  The naturally occurring Widmanstatten lines of the meteorite show through plating with their 3D relief.  The Widmanstatten lines were caused by the meteorite slowly cooling over millions of years as it hurtled through space.  It is estimated to be over 4 billion years old!  The gold color adds a whole new look to the ring.
Note that we need to send out the inlay for plating, so it might take about 2 weeks or so.
---
Share this Product
Regular price
$825.00
$0.00
---
More from this collection