Meteorite Sculpted Round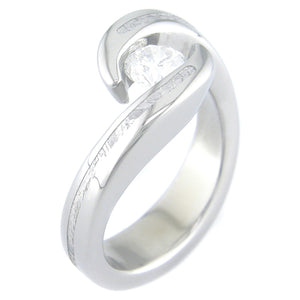 The Meteorite Sculpted Round is one of the classiest rings we make.  The arms of the ring wrap around the stone, and a line of meteorite goes around the ring to accent it.  The inlay is genuine Gibeon Meteorite that is over 4 billion years old and fell from outer space and landed in Namibia, Africa sometime in prehistory.  It has a unique crystalline structure due to it cooling over millions of years in space.  Metals native to Earth don't have this unique structure.  This is a stunner.
*Note: due to the asymmetric profile, engraving should be kept short to work best. 
---
Share this Product
Regular price
$1,195.00
$0.00
Disaster at 10 years
Our Sculpted Round Tension Cobalt Chrome Ring with Platinum Inlays was sent out 4-12-13, my wife and I were very pleased with out purchase up until March of 2023 when at a hockey game she noticed the diamond was missing. It appears as if the diamond rolled over the cobalt chrome contact points and left a visible mark. By sure luck were stayed after the game and were able to find the diamond. I was pleased to see Boone still sold this exact ring. I saved up enough money to replace it just in time for our 10 year anniversary. I am devastated to find out Boone doesn't sell this ring anymore as I cannot find it on the site.
Boone Rings Etsy Store Review
The ring shipped extremely fast and Bruce was very responsive to all of my questions. The craftsmanship of the ring is phenomenal. I couldn't be happier with my purchase
Boone Rings Etsy Store Review
I can not say enough good things about the engagement ring I purchased!
The craftsmanship is fantastic, the titanium and meteorite are beautiful together, Bruce set my stone and inscribed it, the ring was finished fast, and the service was superb.
What more can I say?
Oh yeah! She said yes!!!
Boone Rings Etsy Store Review
Superbe bague, je suis ravie. Ma bague de fiançailles vient des étoiles!!!!
---
More from this collection