Roman Numerals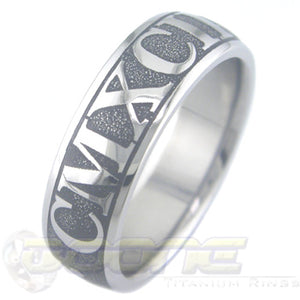 This ring is perfect for remembering a special date that has significance to you.  We custom carve the numbers you want.   Numbers are separated by centered dots, so a date such as April 24th, 1993 would be written out as
IV . XXIV . MCMXCIII
Europeans might prefer to have the order changed.
The numbers are as follows:
M=1000
C=100
L=50
X=10
V=5
I=1
Digits are repeated up to 3 times, then the "one before" rule kicks in, so 9 is IX (one before ten) or 944 is CMXLIV
---
Share this Product
Regular price
$375.00
$0.00
---
More from this collection