Secret Text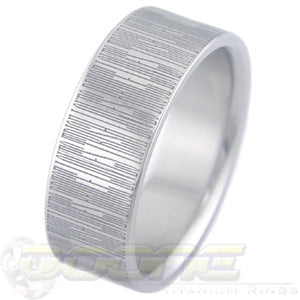 This ring has what looks to be a nice design with lots of fine lines around it.  What can't be seen through casual observation is that the ring actually contains text, and lots of it.  When you tilt the ring so that it's edge on, you can read the fine text.  This one says TRISH LOVES BRUCE LOVES... and it continues around the ring.  For this type of text, all capital letters work best. The ring shown is a size 10 x 8mm. 
---
Share this Product
Regular price
$395.00
$0.00
Boone Rings Etsy Store Review
Amazing ring with awesome detail and quality. Seller ships super fast. I was truly impressed with every aspect of the process and the ring itself! Thank you for working with me to create the perfect ring!
Boone Rings Etsy Store Review
I absolutely love the rings from here! They make the perfect gifts!
Boone Rings Etsy Store Review
I ordered my ring around 10am on a Friday. Mr. Boone emails me confirming receipt of my payment. He then emails again four hours late saying my ring was done and it would be shipped priority mail. I received the band on the following Monday and it was absolutely beautiful. It's unique, original and hopefully my husband will feel the same way. It's truly a one of a kind ring.
Boone Rings Etsy Store Review
Bruce has been really helpful on accommodating my ask. The turnaround time is very quick and the ring is beautiful!
Boone Rings Etsy Store Review
Thank you so much Brunce! The ring is absolutely stunning and has exceeded all of my expectations. Amazingly precise work and utterly unique. Thank you once again.
---
More from this collection