Titanium Custom Name and QR Code Keychain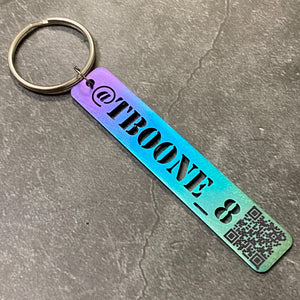 These unique and functional keychains are laser cut out of aerospace grade titanium and have a QR code leading to a destination of your choice laser engraved onto the front surface (could be a crypto wallet public receiving address, a digital portfolio, your website, or so much more).  For an additional fee, we can laser engrave another QR code on the back.  We have the option to leave the keychain as raw titanium or anodize it a wide variety of colors for an additional fee as well.  If you choose to not have a QR code, then the keychain will not have the extra space after the name.
*** If you choose for your QR code to lead to your public receiving address for a cryptocurrency wallet, as an added security precaution, we recommend that you email the receiving address link to bboone5619@aol.com so that that information remains separate from the rest of your customer information.  In the email subject, please include your order number for my reference.  If you choose to send the link to me via email, then once the keychain is engraved, I will delete the QR code file from our system. In the text box for the QR code link, write "sent in email". ***
Disclaimer: NEVER share your crypto private keys with anyone!  That could cause you to lose all of your funds.
---
Share this Product
Regular price
$35.00
$0.00