Meteorite Drop Earrings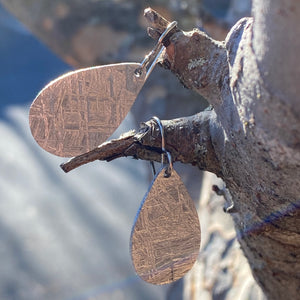 These earrings are teardrop shape and are finely crafted from genuine 4 billion year old Gibeon Meteorite that fell from space. They are made thin to be lightweight and are 25mm x 15mm.  The loops are hypoallergenic titanium.  The beautiful Widmanstatten lines show up well.
Please note: Due to the increased area of earrings, it may be possible to have one or two small dark spots in the meteorite.  These are known as regmaglypts and are usually around 1 to 2mm in diameter.  This is simply rocky bits from the outer mantle of the meteor that get mixed with the iron core.  Just like the Earth has a rocky mantle and an iron core and was formed from meteorites, it's all perfectly natural.
---
Share this Product
Regular price
$95.00
$0.00
We Love The Made-To-Order Meteorite Earrings!
Bruce made meteorite earrings made-to-order. Very reasonable price. Originally had a larger pair made that ended up being too heavy for wife's ears, so turned those into a pendant and then had a smaller pair made with middle cut out to reduce weight. We love them. Thanks Bruce
Boone Rings Etsy Store Review
Wow! I was more than surprised and pleased with these earrings when I opened the package. They are larger and thicker than I thought they would be, given the dimensions, and they are heavier for their size than I imagined, as well. They are 92% iron after all. The Widmanstätten patterns are crazy beautiful and they catch the light so dramatically! They scintillate! They came with a Certificate of Authenticity and a history of the meteorite from which these specimens are derived. I feel so honored to own a piece of the universe. There is no mistaking that these are meteorites, and the picture does NOT do them justice! Buy 'em! You'll LOVE them!
Boone Rings Etsy Store Review
Amazing quality and super fast shipping. I'll definitely order from this shop again. The picture made it hard to tell the scale of the item but the item was still amazing. Thank!
Boone Rings Etsy Store Review
Wife, a science teacher, loved that it was a meteorite and also jewelry, for her birthday.
Boone Rings Etsy Store Review
This review has no content.
---
More from this collection