The Man Ring Version 2.0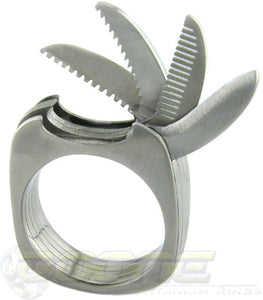 We took the world's first and only utility ring and made it even better.  Hidden inside is an assortment of useful tools. It has a working bottle opener, a straight blade perfect for cutting packing tape or fishing line, a serrated blade for tougher things like nylon strapping or those tough to open electronics heat sealed packages, a saw for cutting plastic and wood, and it has a comb!  Although the comb is tiny, it actually does a surprisingly good job on the facial hair. You tend to find new uses for it.  It can strip wire! Who knew!?
The ring is custom made in exactly your size.  The width remains at 7.8mm.  The Brushed finish seems to work best, so I left off those options.  The inside of the ring gets a polished finish for comfort.  Although the ring can be engraved, the internal lines will affect the letters a bit.  I recommend the Roman font if you will be engraving inside. 
Some of the improvements we made include making the body sleeker, more narrow, and reduced weight for added comfort.  The bottle opener is more robust with the double width claw integrated right into the laser welded titanium body.  It comes in handy for aluminum can pop tops too.  The tools all open wider for larger applications.  The blade and saw are now made from wide stainless steel plates, so are more robust.  The saw has a curved blade with more aggressive teeth facing inwards to assist in cutting larger pieces.  The serrated blade has deeper serrations for cutting things like paracord or nylon zip ties.  We also added a satisfying click feature to the tools in the full closed and open positions.
The Man Ring is more than just a ring.  It is a finely engineered and crafted piece of functional art that anyone would be proud to wear.
---
Share this Product
Regular price
$295.00
$0.00
Boone Rings Etsy Store Review
Great customer service. Bruce was quick to reply back to my questions and I got the ring within a week! 5 stars! Thank you for everything Bruce. I highly recommend the man ring!
Boone Rings Etsy Store Review
Definitely one the best jewelers I purchased from . Design is one of a kind and meticulous craftsmanship. Excellent customer service. I would certainly buy from Boonerings again and refer to my friends and family.
Boone Rings Etsy Store Review
What a wonderful ring. Nicely finished, very unusual & quirky and terribly practical! Absolutely love it.
Boone Rings Etsy Store Review
This review has no content.
Boone Rings Etsy Store Review
fits even the smallest female fingers. LOVE!
---
More from this collection