Meteorite and Abalone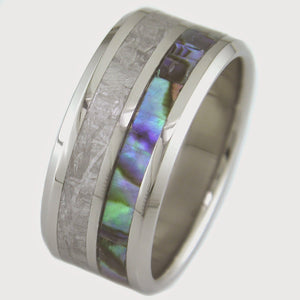 The ring shown is a Flat Profile with Bevels ring with inlays of genuine Gibeon Meteorite and an inlay of abalone.  The meteorite was discovered in Namibia in South Africa in 1838.  It has a unique crystalline grain structure called Widmanstatten lines that were caused by the meteorite slowly cooling over millions of years as it hurtled through space.  It is estimated to be over 4 billion years old!  The government of Namibia has stopped export of the meteorite, so it will become more rare as the years go by.  The ring shown is 11mm wide and has a Polished finish. It needs to be at least 7mm wide for this ring to work.
---
Share this Product
Regular price
$745.00
$0.00
Lovely ring for my fiancé!
My fiancé found this ring forever ago and has been wanting it to be his ring whenever the time comes. Well we finally are engaged and when his ring arrived it was even better in person! Couldn't be happier with the fit or overall buying experience, plus the ring arrived much faster than I was expecting.
---
More from this collection