Meteorite Sphere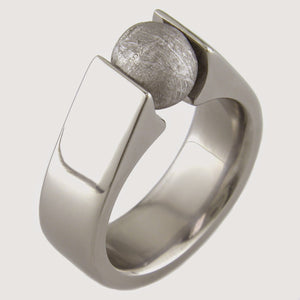 The Meteorite Sphere is a tension set ring that holds a sphere of Gibeon Meteorite that is over 4 billion years old and fell from outer space and landed in Namibia, Africa sometime in prehistory.  It has a unique crystalline structure due to it cooling over millions of years in space.  Metals native to Earth don't have this unique structure.  The ring shown is 7mm wide, and the sphere is 7mm wide and has a polished finish.
---
Share this Product
Regular price
$840.00
$0.00
Boone Rings Etsy Store Review
J'ai offert cette bague comme bague de fian?ailles ? mon ami et, non seulement il ne la quitte plus, mais elle a fait fureur dans son entourage.
Comme une variante du solitaire, elle est ? la fois ?l?gante et masculine avec un morceau d'?toile de 4 milliards d'ann?es !
Vendeur aimable, avenant : ? recommander sans r?serve ! Merci !
---
More from this collection