Raptor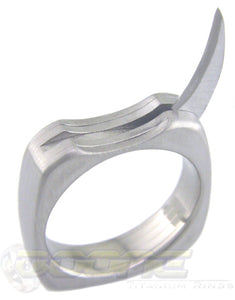 Raptor is a titanium ring with a single retractable blade that pivots out.  It gets its name from the curved slashing claw of the Velociraptor.  The stainless steel blade can be used to open boxes or cut packing tape or can be used as a last line of defense.
The ring is custom made in exactly your size.  The width remains at 6.3mm.  The Brushed finish seems to work best, so I left off those options.  The inside of the ring gets a polished finish for comfort.
 Although the ring can be engraved, the internal lines will affect the letters a bit.  I recommend the Roman font if
---
Share this Product
Regular price
$195.00
$0.00
Raptor Ring 5 stars
Awesome ring great material great quality super cool great knife attachment
Great for women too!
I just bought one for myself. I love masculine rings; luckily Raptor comes in small sizes! Wish the knife was sharper. Is it safe to sharpen it with a whetting stone or take it to a professional sharpening service?
Not very sharp
I had hoped the blade would be sharp. It is not. Apart from that the ring is really cool.
Boone Rings Etsy Store Review
I love this ring, many thanks to Bruce. It is masterfully crafted with super tough gray titanium. The blade is nice and sharp, not too sharp, and has infinite practicality in my opinion. I was worried that the blade tip would snag or scratch when folded closed but it sits nice and flush with the corner so accidental injury when folded down seems impossible.
---
More from this collection