Raptor Lite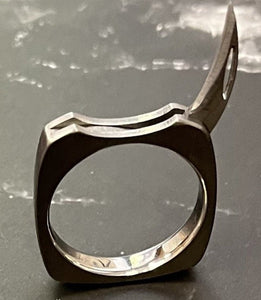 Raptor Lite takes our Raptor Ring and slims it down to a width of only 4mm.  It is a titanium ring with a single retractable blade that pivots out.  It gets its name from the curved slashing claw of the Velociraptor.  The stainless steel blade can be used to open boxes or cut packing tape or can be used as a last line of defense.
The ring is custom made in exactly your size.  The width remains at 4mm.  The Brushed finish seems to work best, so I left off those options.  The inside of the ring gets a polished finish for comfort.
Although the ring can be engraved, the internal lines will affect the letters a bit. I recommend the Roman font if you will be engraving inside. Please keep engraving to 10 characters or less.
---
Share this Product
Regular price
$185.00
$0.00
Raptor
Great little knife. Very handy. Could be sharper
Almost a secret tool
This slender ring is a second ring on the ring finger--the first is my wedding ring--and gives me a tool that works.
---
More from this collection