The Man Ring Ultimate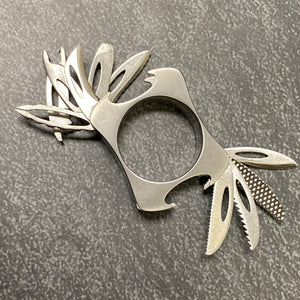 We took the world's first and only utility ring and made an upgraded version with 10 tools.  It has a working bottle opener, a straight blade perfect for cutting packing tape or fishing line, a fingernail file for when you break a nail away from home, a saw for cutting plastic and wood, a hacksaw for cutting dense wood or light metal, a raptor blade for opening packing tape or other slitting needs, tweezers for picking out a splinter or ingrown hair, pliers for adjusting fishing lures and other wire needs, a screwdriver for whatever needs opening, and a serrated blade for tougher things like nylon strapping, zip ties, or those tough to open heat sealed packages.
The ring is custom made in exactly your size.  The width remains at 9.1mm.  The ring is a brushed finish, while the inside of the ring is polished for comfort.  Engraving is possible.  I recommend the Roman font if you will be engraving inside. 
The body is made from aerospace grade titanium. The tools are made from stainless steel with the exception of the tweezers and pliers that are made from titanium for its springy properties. The tools open wide for larger applications.  We added a satisfying click feature to the tools in the full closed and open positions.
The Man Ring Ultimate is more than just a ring.  It is a finely engineered and crafted piece of functional art that anyone would be proud to wear.
---
Share this Product
Regular price
$395.00
$0.00
Boone Rings Etsy Store Review
So I'll start by saying that I very happy overall but I have some design suggestions. The outer most layer has 4 prongs and they can catch a lot.
Upon receiving the ring there was a bit of a gap between the tools and that outer layer which caught fabric a few times a day for me.
I took a dime I had handy and carefully pushed the outer layer to make contact with the tools which helps considerably.
But I think the ring would be better if those were not claw shaped and be rounded to
To avoid the catching. The back side of the ring where the pliers seems like it could have been trimmed just a touch so the pliers could be closed while they are fully extended as is that bit of metal on the side of the ring be the pliers is just a touch too long.
Just a FYI the ring stands between 4-5 pennys of hight above your finger on both sides.
Boone Rings Etsy Store Review
It looks great, thank you.
Boone Rings Etsy Store Review
Very well crafted and comfortable to wear
Boone Rings Etsy Store Review
非常にユニークな作品でした。迅速なご発送と丁寧な梱包でした。
Boone Rings Etsy Store Review
Beautiful and unique piece of tool art. Arrived quickly, too.
---
More from this collection